Map
Description
In the Map section, you can see:
The total number of couriers who are currently working.

The location of all couriers.

The couriers who are late, online, or offline, and those no data was received from.
It also provides information about a courier and their orders, and lets you set filters for information output on the map.
The page is automatically refreshed every few minutes and you always see up-to-date information.
The location of couriers is marked on the map by colored icons:
Blue: The courier is delivering orders on time.

Red: The courier is late.

Gray: The exact location of the courier is unknown, as there is

no data

about their coordinates.
If you select a specific courier, the color of their icon on the map becomes solid.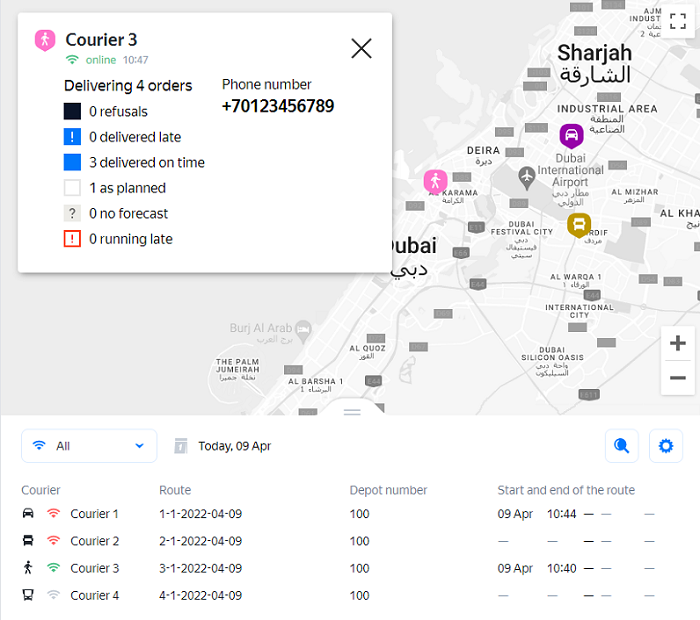 Statuses
All couriers, depending on their movement along the route and the data received from them, are assigned one of the following statuses:
:

Online

:

Offline

:

Is late

:

No data
Each section shows the number of couriers with the corresponding status and their list. If you select a certain courier from the list, a window with courier data appears on top of the map.
Filters
If you want the map to only show couriers with a particular status (for example, offline), disable the display of other statuses:
Hover over the section with the unwanted status under the map.
You can set additional filters for the offline and is late statuses:
Time offline

Lets you set the allowed time interval during which no data may be received from the courier:

In the

offline

section, click the button with the number of minutes.

Use the slider to set the desired value.

If this time is exceeded, the courier is considered to be offline.

Delays by the number of orders

Lets you see how many couriers are late and fail to deliver a certain number of orders:

In the

is late

section, click the button with the number of orders.

Use the slider to set the desired value.
Courier data
To view information about a courier's work, select the desired courier on the map or in the list under the map. In the window that opens on the map, you can see:
The name of the courier (the name or number of the vehicle).

The time when the coordinates were last sent by the courier.
To view more detailed information about the courier, route, and orders, click the link with the courier's name. This opens the courier card.
Note.
If the courier was deleted from the system, the

"Courier deleted"

note is displayed instead of their username.