Estimated Time of Arrival (ETA)
Description
The Estimated Time of Arrival (ETA) is calculated by Track & Trace every few minutes based on active (incomplete and non-canceled) orders on the route. The estimate is made based on the latest traffic and road conditions.
Attention.
Required conditions for calculating the ETA:
The courier's coordinates have been received.

The courier follows the route according to the delivery sequence.
The ETA affects:
The ETA calculation method depends on the notification creation time.
View the ETA
Logistics coordinators
In the routing workspace interface, the ETA can be found on different pages:
Go to

Track & Trace

→

Dashboard

and select a route.

Scroll down to the table with orders and find the

Time on site

column.
Note.
The route page also shows when the ETA was calculated.
For example, at 14:41.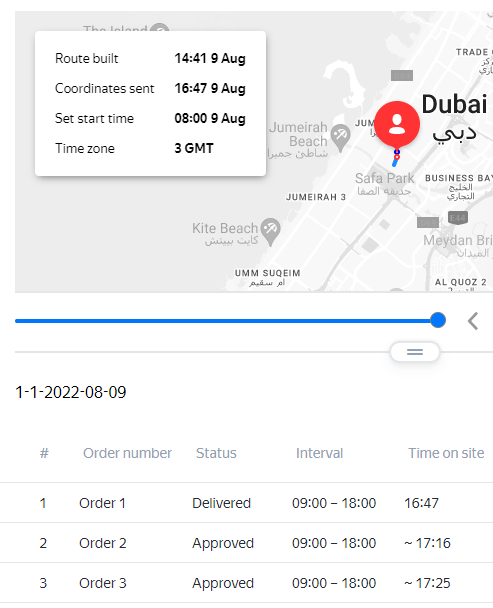 Go to

Track & Trace

→

Orders

.

Scroll the order table to the right to the

Expected delivery time

column.

Go to

Reports

→

Courier performance report

.

Scroll the report table to the right to the

Order delivered (or canceled)

column.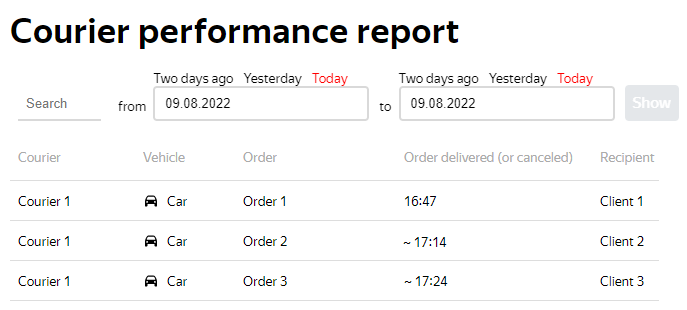 Customers
Customers can find the ETA in the widget by following the URL in the format https://yandex.ru/courier/tracking/<tracking ID>. For more information, see Client widget.
Using the API
You can get the order's ETA by sending a request to the order-info resource.