Estimated Time of Arrival (ETA)
Description
The Estimated Time of Arrival (ETA) indicates the expected arrival time that Track & Trace calculates every few minutes for non-delivered and non-canceled orders en route. The forecast is made based on the current data about traffic and road conditions.
Attention.
Mandatory conditions for calculating the ETA:
The coordinates are received from the courier.

The courier moves along the route in accordance with the order delivery sequence.
The ETA calculation results affect:
The ETA calculation type depends on when the notification was created.
View
For logisticians
In the routing workspace interface, the ETA value is displayed on pages of different types:
Open

Track & Trace

→

Dashboard

and select a route.

Scroll down the page to the table with orders and find the

Delivery time

column.
Note.
The route page also indicates the ETA calculation time. For example, at 10:55, 11:03, and so on.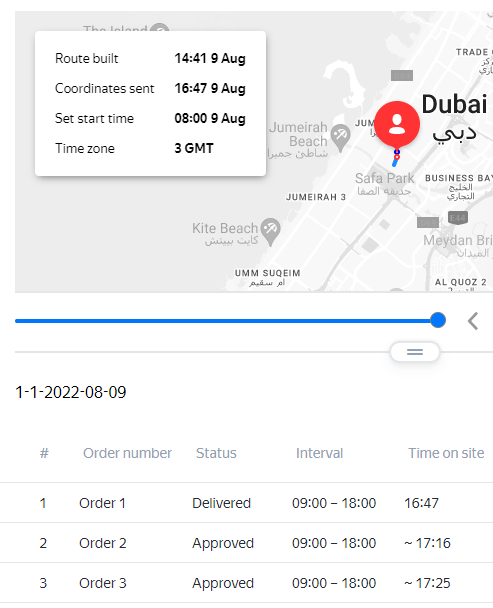 Select

Track & Trace

→

Orders

.

Scroll to the right of the order table to the

Expected delivery time

column.

Select

Reports

→

Courier performance report

.

Scroll to the right of the report table to the

Order delivered (or cancelled)

column.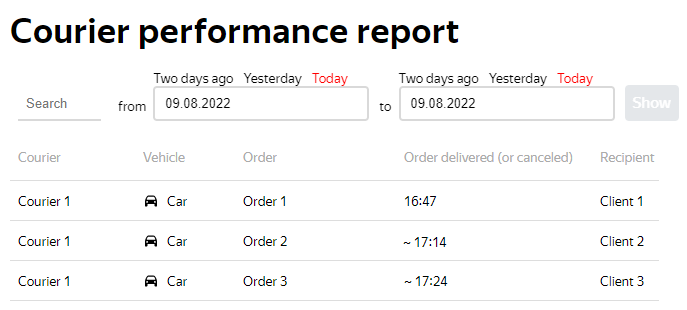 For customers
Customers can find the ETA value in the widget via a link like https://yandex.ru/courier/tracking/<tracking ID>. For more information, see Client widget.
Using the API
You can get the order's ETA by sending a request to the order-info resource.